WEEK 1 RESULTS | AUG. 6
What a home opener! In front of a sold-out crowd of 33 thousand excited fans, the Saskatchewan Roughriders held on to snag their first win of the 2021 season.
The Roughriders came out blazing, with star QB Fajardo throwing 12 for 12, 95 yards and a touchdown. The Lions stormed back in the second half, attempting a comeback but fell short to give the Roughriders their first win.
What do the fans say?
As far as describing one word for the game, a majority said, "EXCITING!" Others said "awesome," "nail biter," and "close." Is there any better way to describe such a fun game?
Roughrider fans said that the offensive passing game (37%) looked strong. Others Rider fans said that "playing until the last play" (19%) was another top strength for the Roughriders to hold on and secure their first win.
In terms of weaknesses of the game, most fans said that "defending the pass" (37%) was a top weakness. However, others said, "something else" (21%). In addition, fans responded with comments like "it's too soon to tell," "conditioning," and "consistency."
We asked Roughrider fans how confident they are in the Green and White will win the Grey Cup this year – the Grey Cup Confidence Score for August 6 is +76.
First Four at Home!
It's time to strap on your melon helmets and get ready to cheer on our home team! With the first four games at home, the start this season is only getting started.
Welcome to LetsGoRiders.com, a fan analytics website powered by Insightrix Research and supported by the opinions of our amazing Roughrider fans who are active members of the SaskWatch Research online community.
Each week, we survey 200 moderate to die-hard fans to analyze their thoughts on each game. Visit our website as we break down each week our fans' thoughts on the strengths and weaknesses and our chances at the Grey Cup using the Insightrix Grey Cup Confidence Index.
The Grey Cup Confidence Index will track – each week – how Saskatchewan Roughrider fans feel about our chances at winning the Grey Cup this year.
We've missed you, Rider Nation. So come back and visit, bookmark this page, and follow SaskWatch Research on social media to get the latest updates on LetsGoRiders.com.
Find out what Saskatchewan Roughrider fans think for August 6:
Passing Game

Turnovers

+76

Exciting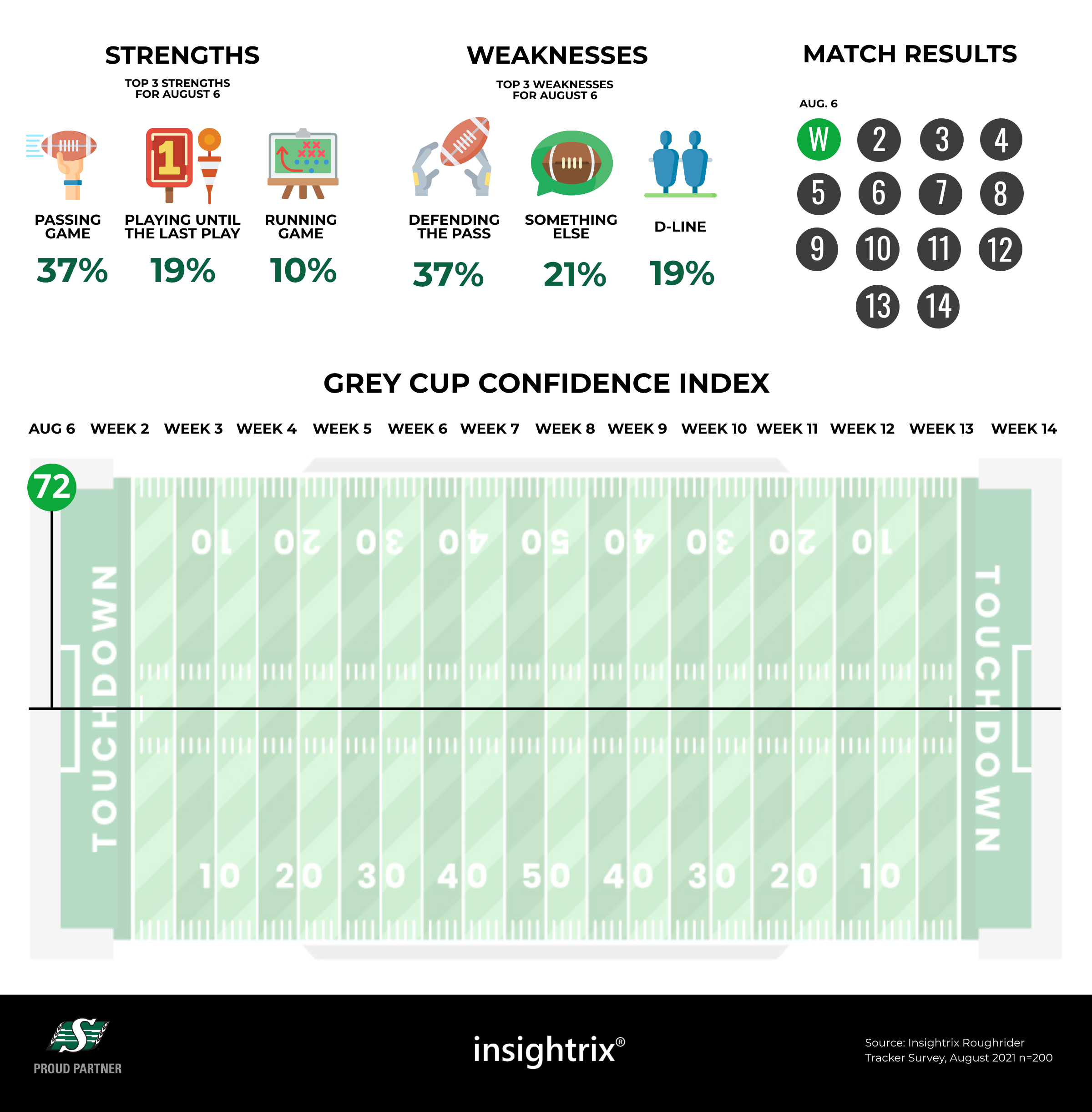 Want to put in your two cents about how the Riders are doing this year?
Discuss the coaching staff's choices, the players' performances, and anything Rider-related at LetsGoRiders.com – one of Canada's only fan analytic sites. It's free, it's fun, and it's your way to join in on the discussion.
Join up right now, speak out and make your opinion known.
Hedge your bets!
Check out Hudson's Huddles – where he and his puppy pals predict each Saskatchewan Roughrider game. Here's the game opener prediction featuring Hudson's friend, Brising!