WEEK 3 | THREE STRAIGHT WINS | AUG. 21
With the Saskatchewan Roughriders winning their THIRD STRAIGHT GAME – our boys in the Green and White have captured the confidence of Rider Nation, with the Grey Cup Confidence at an ALL-TIME HIGH and Roughrider fans confident that the "Grey Cup is Ours"!
Once again, Cody Fajardo led the Roughriders to an exciting fourth-quarter win,   leading the Riders to improve its season record to an undefeated 3-0.
THREE STRAIGHT WINS
Fans had a lot to say about Week 3. So what did the fans say were the Roughriders' weak areas? Some fans believe that the Riders' defensive line was both a strength (10%) but ALSO a weakness (9%). No surprise in this reaction, given the tightly contested game!
While the Roughriders' passing game continues to be a top highlight, some fans said the "overall talent" of the team, the "quarterback and receiving" and that the "team seems to have the IT factor where they can rise to the occasion" is another reason for their early rise to success. That is some confidence, right there!
Some fans mention that the "touchdown celebrations" (6%) are worth noting as well. What has been your favourite celebration so far?
Check out what else Roughrider fans had to say in our latest SaskWatch Rider Tracker infographic:
Find out what Saskatchewan Roughrider fans think for August 14:
Passing Game

Penalties

+170

Exciting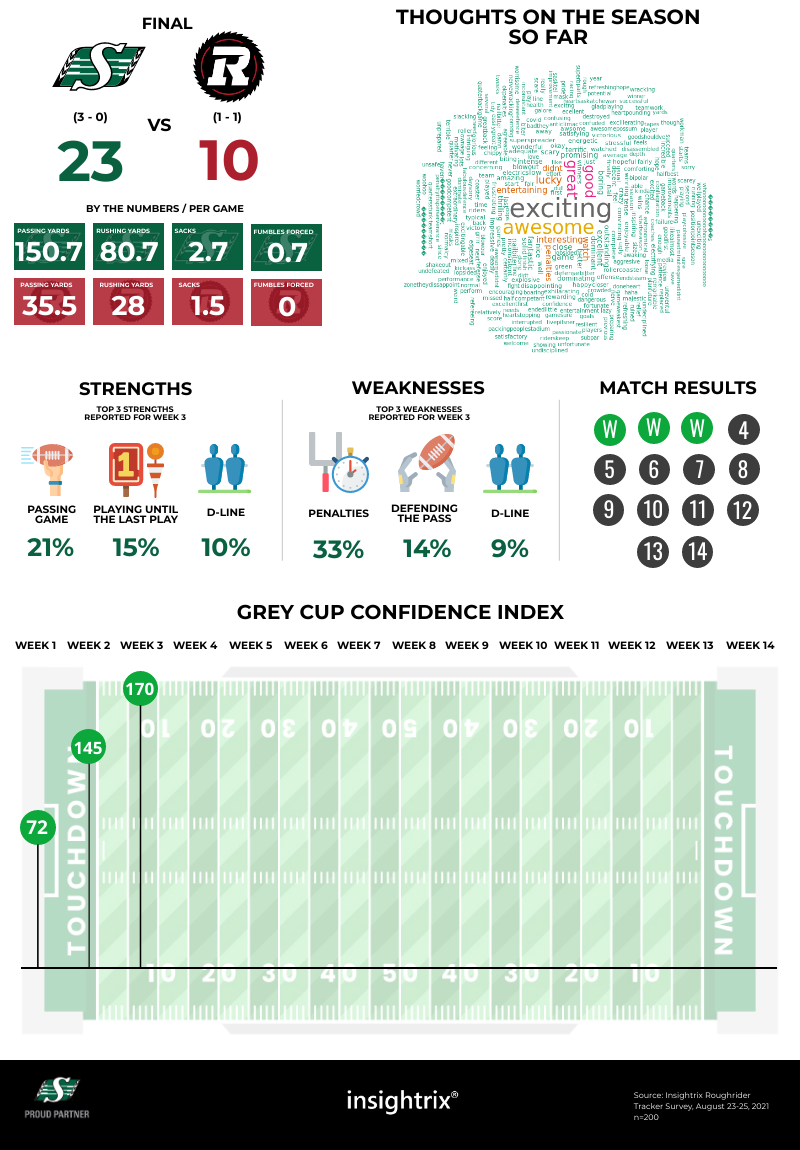 Want to learn more about how you can answer questions on the Saskatchewan Roughriders?
Join us to discuss the coaching choices, players' performances, and anything Rider-related at LetsGoRiders.com – one of Canada's only fan analytic sites. It's free, it's fun, and it's your way to join in on the community discussion.