PRESEASON 2022
Welcome back, Rider Nation! It is so great to have football back in all its glory!
We are excited to kick off another Saskatchewan Roughriders Fan Tracker for the 2022 season.
What do the fans say?
What is there to say about a Saskatchewan Roughrider preseason game? So often, we use this opportunity to showcase our younger talent and allow them to show us why they should make the roster.
When asking fans' thoughts about the preseason games, here's what they had to say!
"Promising! Several newcomers could do very well if preseason translates into regular-season performance."
"The first [game] was okay, the second [game] in B.C. was better, but we need more of the defence to show up."
"Typical – based on coaches' [post-game] comments, they achieved what they are looking for."
"As expected. Still find our offensive line a bit weak. Hoping that will get better. I wish they had won one game for morale. It's a lot of pressure on the team to perform. They need to be ready. Someone injured? It's next [man] up and just as qualified."
Preseason Woes
"Preseason is for the coaching staff to evaluate the players. I don't think fans should be too concerned about it. Think back to what Bob Hughes called the "silly season."
Roughrider fans said that the team chemistry (32%) looked strong. Other Rider fans noted that the talent (30%) looks fantastic this year, and the defensive line (27%) could be an x-factor for the 2022 season.
In terms of game weaknesses, most fans said that the preseason showed that not much has changed from 2021, with penalties (31%) continuing to plague the Rider roster. However, others are somewhat concerned about the offensive line (19%) being a weak point this season. In addition, fans say that turnovers (19%) could also be an issue into the 2022 season if the Riders don't tighten up their offence! In addition, fans said they are "hopeful" that the Riders have "growing potential" and "growing pains with good talent."
THE GREEN & WHITE
It's time to strap on your melon helmets and get ready to cheer on our home team! This preseason, we asked Roughrider fans who live in Saskatchewan if they plan to attend a home game this season, and 6 in 10 die-hard green and white fans said they would be at Mosaic; cheering their team on!
Additionally, of the Rider fans who live in Saskatchewan, 10% said they plan to travel out of the province to see a game! Of those who are planning to travel, nearly half (48%) said they intend to see to the Commonwealth Stadium to see their Riders lace up against the Edmonton Elks.
Here's what the fans had to say about the Riders' preseason performance: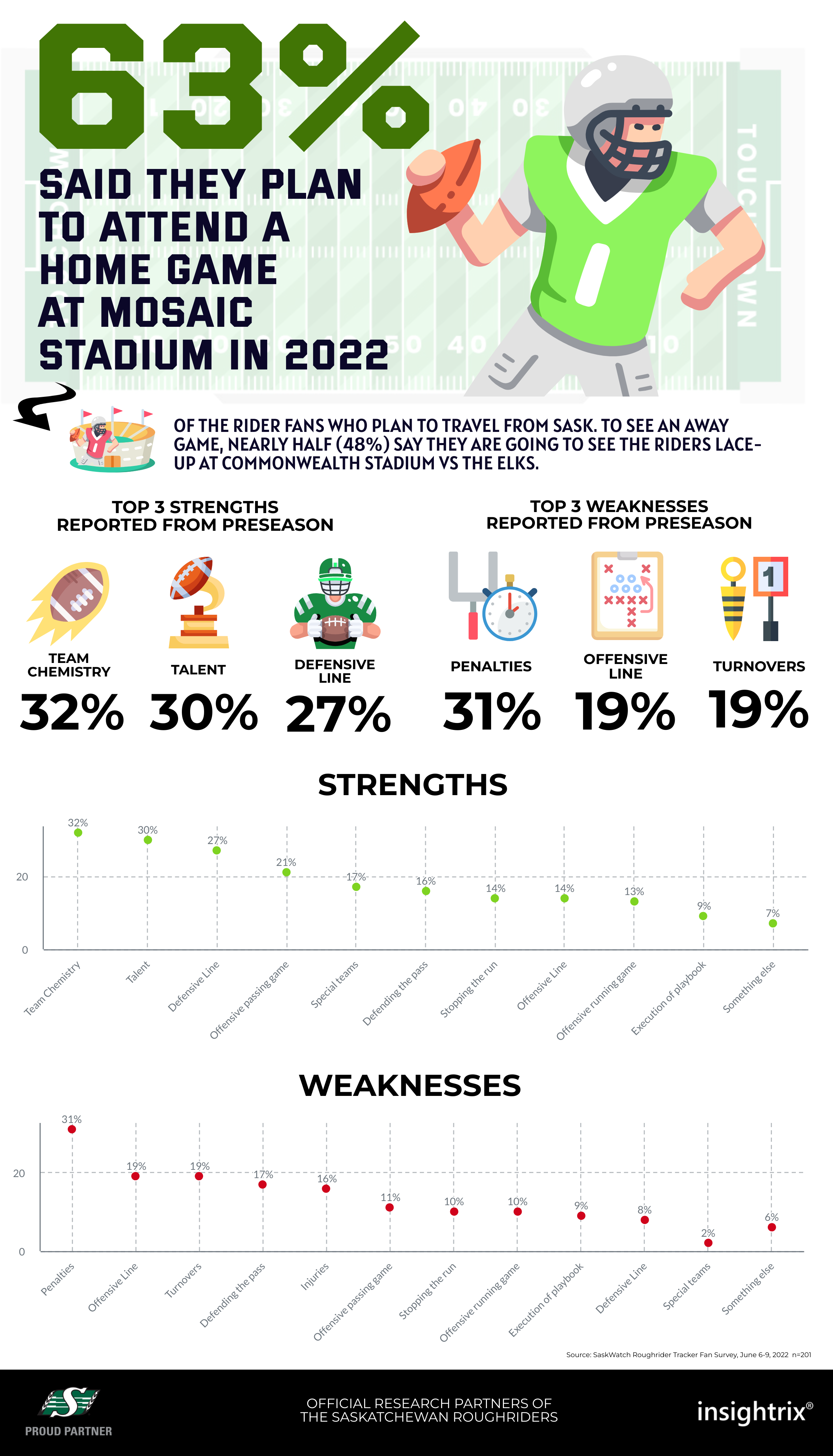 RIDER TRACKER 2022
Welcome to LetsGoRiders.com, a fan analytics website powered by Insightrix Research and supported by the opinions of our amazing Roughrider fans, who are active members of the SaskWatch Research online community.
We survey 200 moderate to die-hard fans each week to analyze their thoughts on each game. Visit our website as we break down our fans' thoughts each week on the strengths and weaknesses and our chances at the Grey Cup using the Insightrix Grey Cup Confidence Index.
The Grey Cup Confidence Index will track – each week – how Saskatchewan Roughrider fans feel about our chances at winning the Grey Cup this year.
We've missed you, Rider Nation. So come back and visit, bookmark this page, and follow SaskWatch Research on social media to get the latest updates on LetsGoRiders.com.
Want to put in your two cents about how the Riders are doing this year?
Discuss the coaching staff's choices, the players' performances, and anything Rider-related at LetsGoRiders.com – one of Canada's only fan analytic sites. It's free, it's fun, and it's your way to join in on the discussion.
Join up right now, speak out and make your opinion known.