WEEK 14 | ILLNESS = TOUGH BREAK
Week 14 really put the 'Rough' in Roughriders. Between a slew of illnesses and a shake-up to the roster, the Roughriders again faced a top division team with their backs against the wall. And while the Labour Day Classic appeared to be a much closer game – the Banjo Bowl was anything but.
Winnipeg dominated home turf to prove they are the best team in the CFL right now. The Roughriders will face the struggling Edmonton Elks at home for the Lights Out Game on September 16th – what do you think the Roughriders have to do to get back on track? Perhaps the Riders can use this game to try some new offensive passing plays or pull out some of that secret hail mary plays they've been saving all year?

FANS WEIGH IN
Fans once again were not happy with the outcome of the game. A majority cited they were "disappointed" in the result. Other fans accredit the flu for contributing to the lopsided loss. These tough losses are starting to show with fans, with the sentiment leaning more negative than usual.
Roughrider fans agreed that the defensive line continues to show up (35%) and is the Green and White's saving grace this season. Additionally, one in four surveyed say the offensive running game (27%) impacted the field, and special teams (26%) seem to contribute where possible.
In terms of weaknesses, many agreed in Week 14 that penalties (53%) and the offensive line (48%) contributed to the loss.
CROSSOVER?
While the Bombers punch their post-season ticket against the Roughriders, in this series, the Saskatchewan Roughriders have an uphill battle if they want to see a playoff game.
As such, fans seem doubtful about their chances of seeing a Grey Cup in Saskatchewan. The GCCI has not changed much this week, from -136 to -132.
Can the Roughriders find some juice to take on the Edmonton Elks, who have not had a great season in 2022? We have the blessing of seeing a potential cross-over in the playoffs in the CFL. Who knows, the Roughriders could very well hurl some excitement towards teams of the East Division! Let's Go, Riders!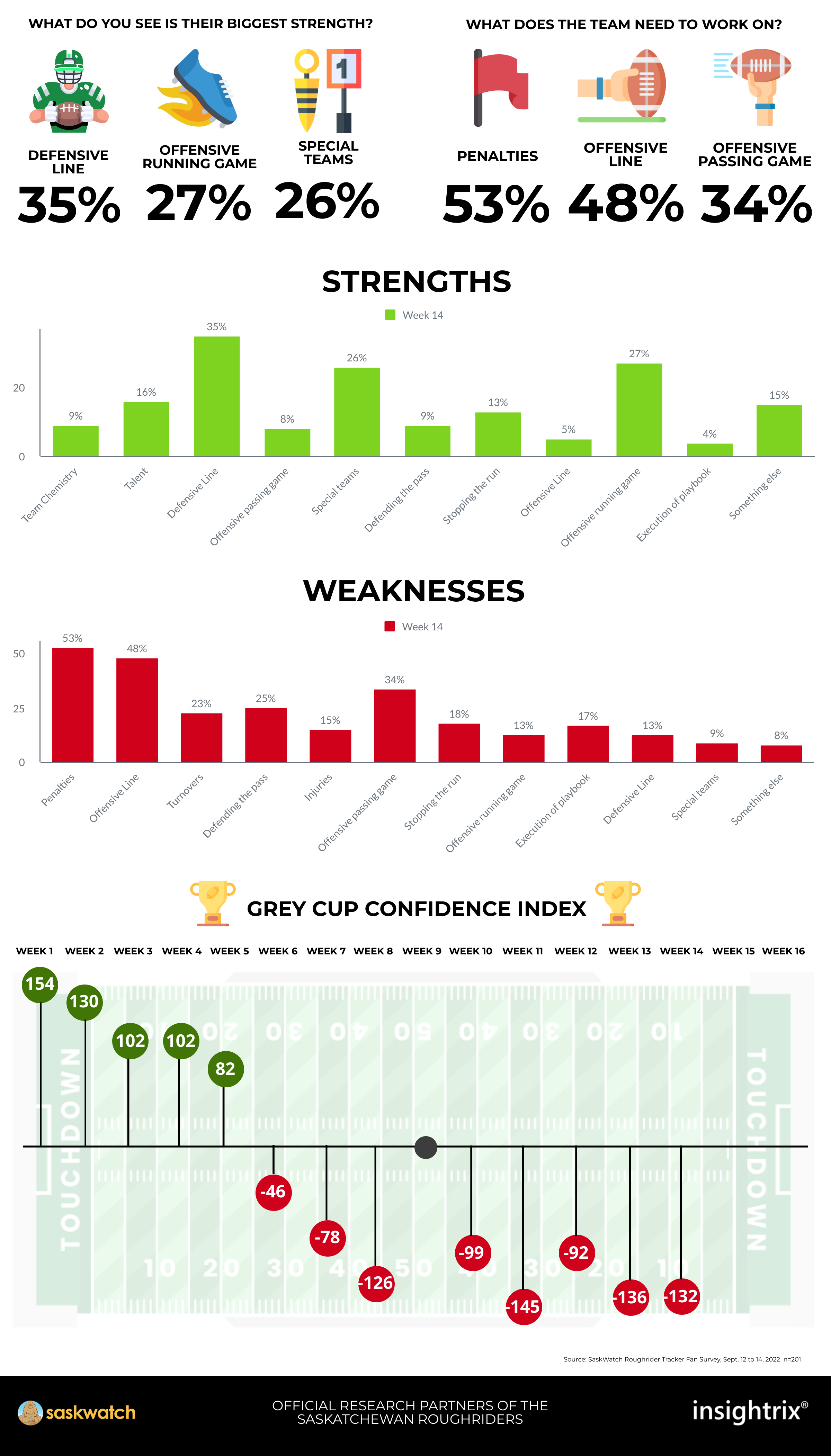 WANT TO WEIGH INTO THE CONVERSATION?
The SaskWatch Research® online community is powered by Insightrix Research Inc., a Saskatchewan-based research company.
The Saskatchewan-only community allows our Prairie residents to have their say on various issues that face the province and their local communities. By joining SaskWatch, you can participate in market research studies that interest you, including sports and entertainment brands like the Saskatchewan Roughriders.