WEEK 5 | LABOUR DAY LOSS
While the Labour Day Classic never disappoints; unfortunately, the Roughriders fall short of the Winnipeg Blue Bombers in their first loss of the season. And while the team may have let this one slip away, there are many things to remain excited about going into the rematch against Winnipeg. According to fans, one of the biggest strengths this season is the offensive gameplay (20%) and playing until the last play (15%) – both key to win the rematch game.
FANS WEIGH IN
Fans say penalties continue to create issues for the Riders, with more than one third saying they believe the team needs to work on this area the most. Others still put pressure on defending the pass (13%) and the D-line (8%) itself.
Fans expressed their feelings for the Labour Day Classic, with most sharing their disappointment in the team's performance. However, fans still found the game "refreshing" and "energetic" despite a first loss. While most were vocal in their own way, it is great to see CFL football back!
As they say, Roughrider fans are some of the most passionate in the CFL. As such, the Grey Cup Confidence Index dipped significantly in Week 5 (down 110 points) – with fans clearly soured after the long weekend loss.
Fear not, fellow melon heads! The Roughriders have a chance to redeem themselves in a match-up in this weekend's Banjo Bowl against the Blue Bombers.
Check out what else Roughrider fans had to say in our latest 2021 SaskWatch Rider Tracker infographic:
Passing Game

Penalties

+65

Disappointing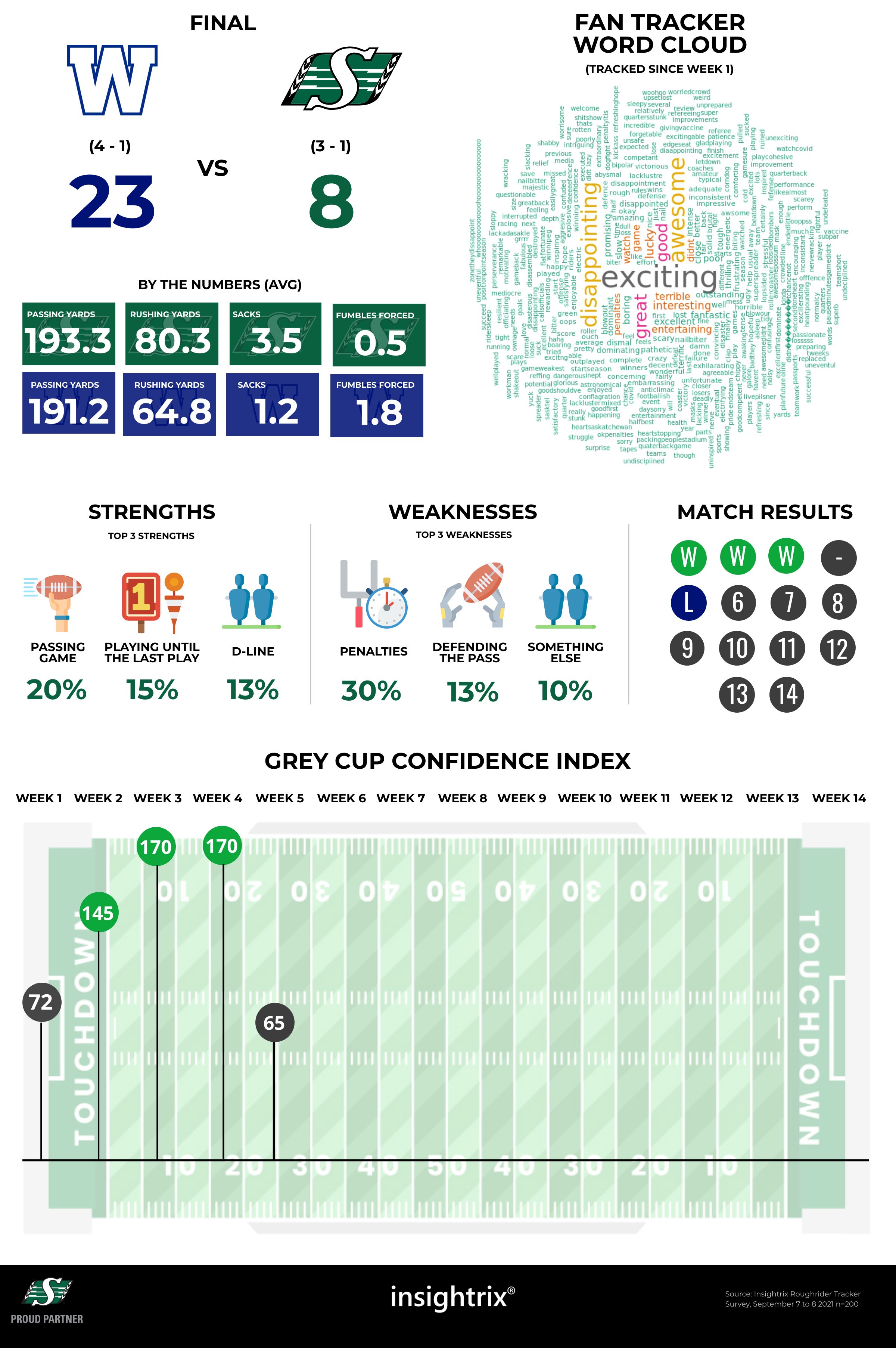 WANT TO LEARN MORE ABOUT HOW YOU CAN ANSWER QUESTIONS ON THE SASKATCHEWAN ROUGHRIDERS?
Join us to discuss the coaching choices, players' performances, and anything Rider-related at LetsGoRiders.com – one of Canada's only fan analytic sites. It's free, it's fun, and it's your way to join in on the community discussion.