WEEK 1 | WILD WIN ON HOME OPENER
With the Saskatchewan Roughriders winning their first game against the Tiger-Cats, the Roughriders slide into the 2022 season with a home opener win!
Check out our latest Rider Tracker infographic to see how fans felt about Week 1!
FANS WEIGH-IN 
After a wild home opener, the Saskatchewan Roughriders could secure the W with a massive 30-13 win against the Hamilton Tiger-Cats, landing Saskatchewan 2nd in the West in the first week.
Roughrider fans had much to say about the Green and White game performance. Some raved, saying the game was "exciting," "excellent," "epic," and that it was "great to be back" at Mosaic.
In terms of performance, more than half of those surveyed attributed the home opener win to the 'defensive line' (56%). Other strengths included 'defending the pass' (ahem, defence!) and the 'team chemistry' (21%) this year. It looks like the boys have added a little fuel to the fire!
Fans also reported on the areas that the Riders could work on based on their performance against the Ticats. For example, those surveyed said that the offensive running game (32%) could continue to use some work. And while Fajardo through more than 300 yards, fans state that the offensive passing game (32%) needs to improve this year if they want to keep winning!
GREY CUP CONFIDENCE INDEX
Roughrider fans are soaring after that win, with the first Grey Cup Confidence Index (GCCI) reporting a +152. So either spring is in the air, or fans are incredibly hopeful for a home turf Grey Cup game as Mosaic Stadium hosts the 2022 Grey Cup.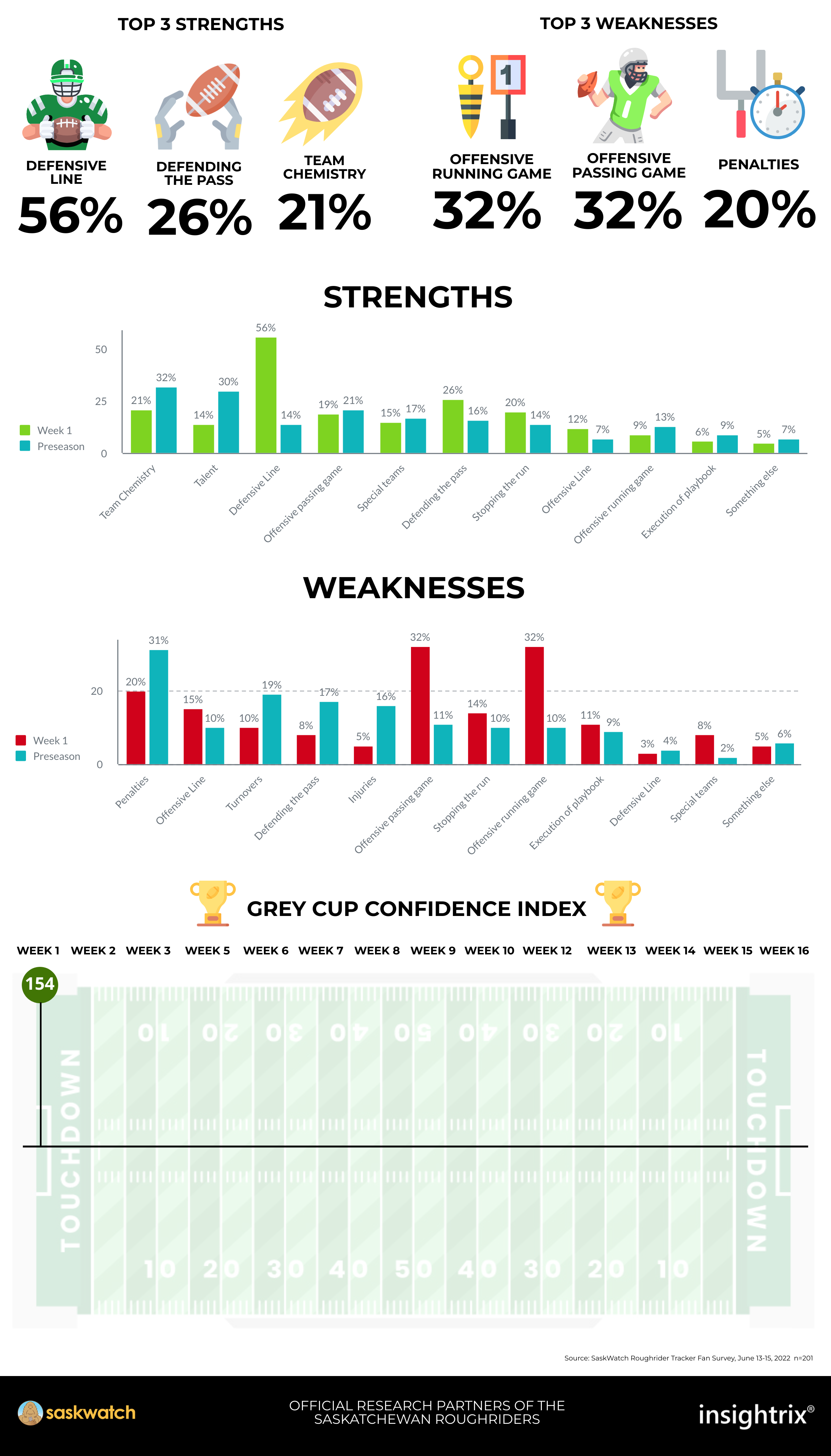 Are You A Saskatchewan Roughrider Fan? Join Us!
Want to put in your two cents about how the Riders are doing this year?
Discuss the coaching staff's choices, the players' performances, and anything Rider-related at LetsGoRiders.com – one of Canada's only fan analytic sites. It's free, it's fun, and it's your way to join in on the discussion.
Join up right now, speak out and make your opinion known.