Week 11 | Frustrating Loss, Fans React
Week 11 was going to be a tough match-up, no matter the circumstance. With the Riders coming off some hefty injuries facing one of the hottest teams in town – the B.C. Lions – the Roughriders had no choice but to lay it all on the line to try and impact the red hot Lions.
Saskatchewan was off to an incredible start but lost momentum in the second half when B.C. capitalized on each Roughrider mistake. Nathan Rourke threw an impressive 336 yards, while Cody Fajardo threw 168 yards with one touchdown and one interception. Jamal Morrow made a significant impact on the game with 47 yards carried in 8 attempts, averaging 5.9 a touch. Morrow also finished with 39 yards catching, averaging 7.8 per catch.
This weekend, the Roughriders face the B.C. Lions once again for redemption, and with their QB star Nathan Rourke out of rotation due to an unfortunate foot injury, can Saskatchewan Roughriders retain composure and pull off a win to help keep their season alive?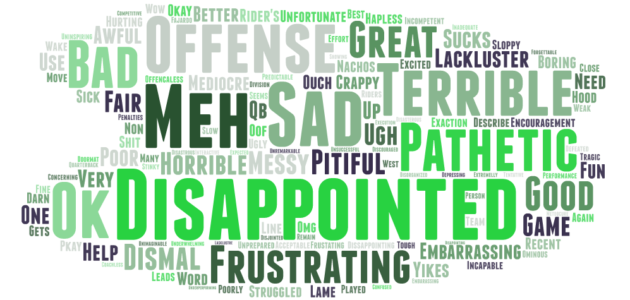 FANS WEIGH IN
Though the Riders lost to the B.C. Lions, a majority of fans had expressed mindful sentiment about the game, with most agreeing the game was "disappointed" and others saying "meh" and "sad." Oof – Rider Nation.
Rider Nation agrees that the "defensive line" (35%) significantly contributed to the game outcome. Special teams (28%) seemed to contribute considerably to their strengths in Week 11.
Fans still believe the game was too frustrating at times to watch, as many agreed that the "offensive line" (57%) and the offensive passing game (49%) needed more work than their discipline. In addition, fans still attribute penalties (47%) to one of their overall weaknesses this season.
FANS ARE NOT VERY OPTIMISTIC
The Grey Cup Confidence Index still reports an all-time low this week at -145, which continues to drop (-145 from -99). The loss over the B.C. Lions have shaken the confidence of Rider Nation. But fear not fellow melonheads! The Saskatchewan Roughriders face the B.C. Lions for a redemption win this weekend and have a chance to get back into a playing spot for the playoffs.
What do you think? Do they have what it takes to play for a playoff spot? What do they need to do differently to beat some of these fierce West Division teams?