WEEK 11 | RIDERS REGAIN MOMENTUM AFTER TENSE VICTORY AGAINST LIONS
Greetings, devoted Rider fans! Welcome back to our weekly update on the exhilarating journey of the Saskatchewan Roughriders. Week 11 brought a rollercoaster of emotions as the Riders faced off against the resilient B.C. Lions, culminating in a nail-biting victory that had fans on the edge of their seats.
DOLEGALA SHINES IN WILD FINISH
In a game that will undoubtedly be remembered for its heart-stopping moments, Jake Dolegala took center stage as the Riders' starting quarterback. Despite the intense pressure from the B.C. Lions' defense, Dolegala's resilience and determination led to a thrilling 34-29 victory for the Green and White. His performance, marked by 329 passing yards and three touchdowns, showcased his growth and adaptability as a pivotal player in the Riders' roster.
FAN SENTIMENT: A MIXTURE OF EMOTIONS
After such a dramatic game, let's delve into the fan reactions. The word cloud reflecting fan sentiments tells a tale of intensity, exhilaration, and relief. Expressions like "incredible," "impressive," "resilient," and "electric" dominate the cloud, echoing the rollercoaster of emotions that fans experienced throughout the game. Fans are clearly energized by the team's ability to secure a win in the face of formidable opposition.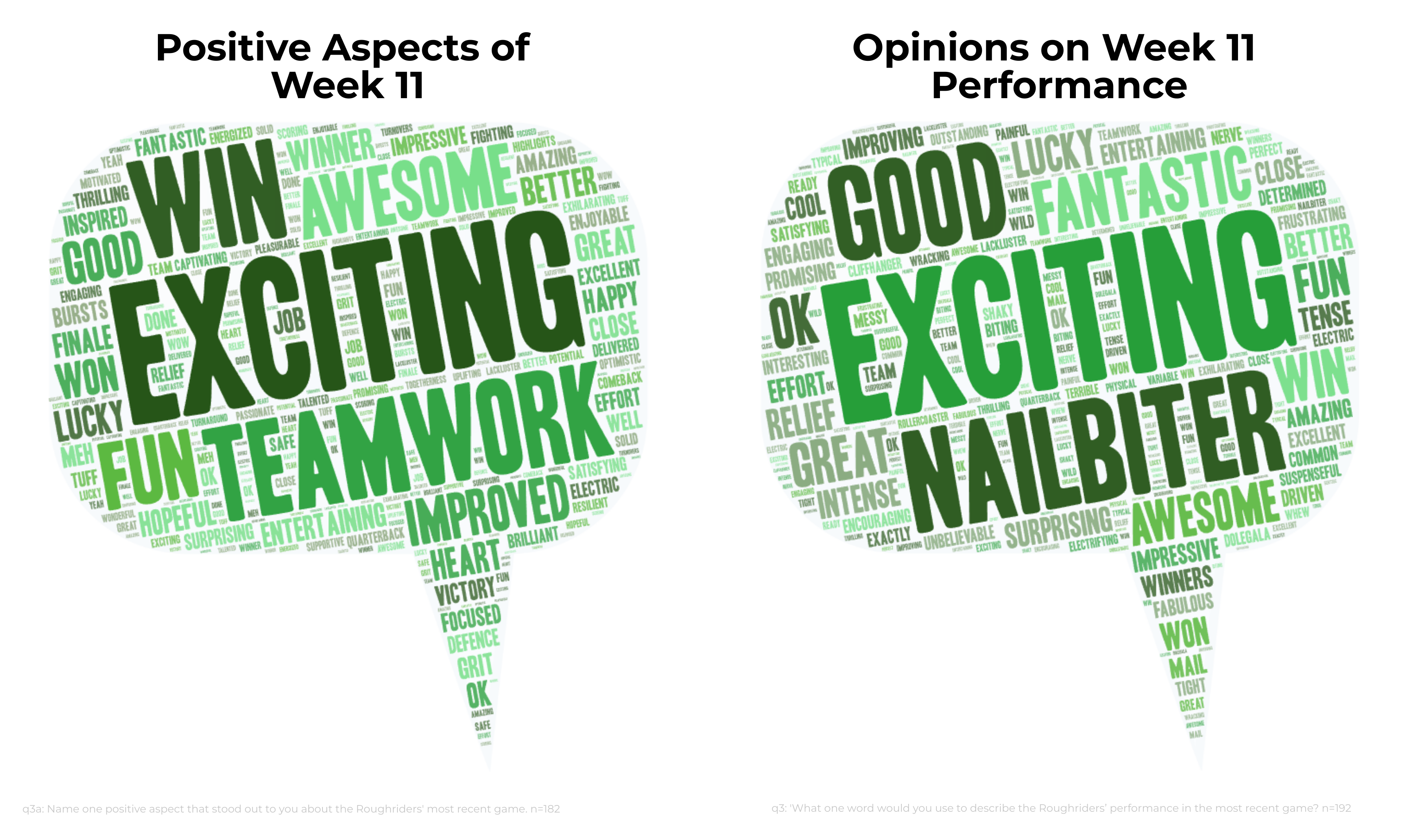 STRENGTHS AND WEAKNESSES
In the aftermath of this high-stakes showdown, fans have re-evaluated their perspectives on the Riders' strengths and areas for improvement. Here's a look at the updated statistics from fan opinions: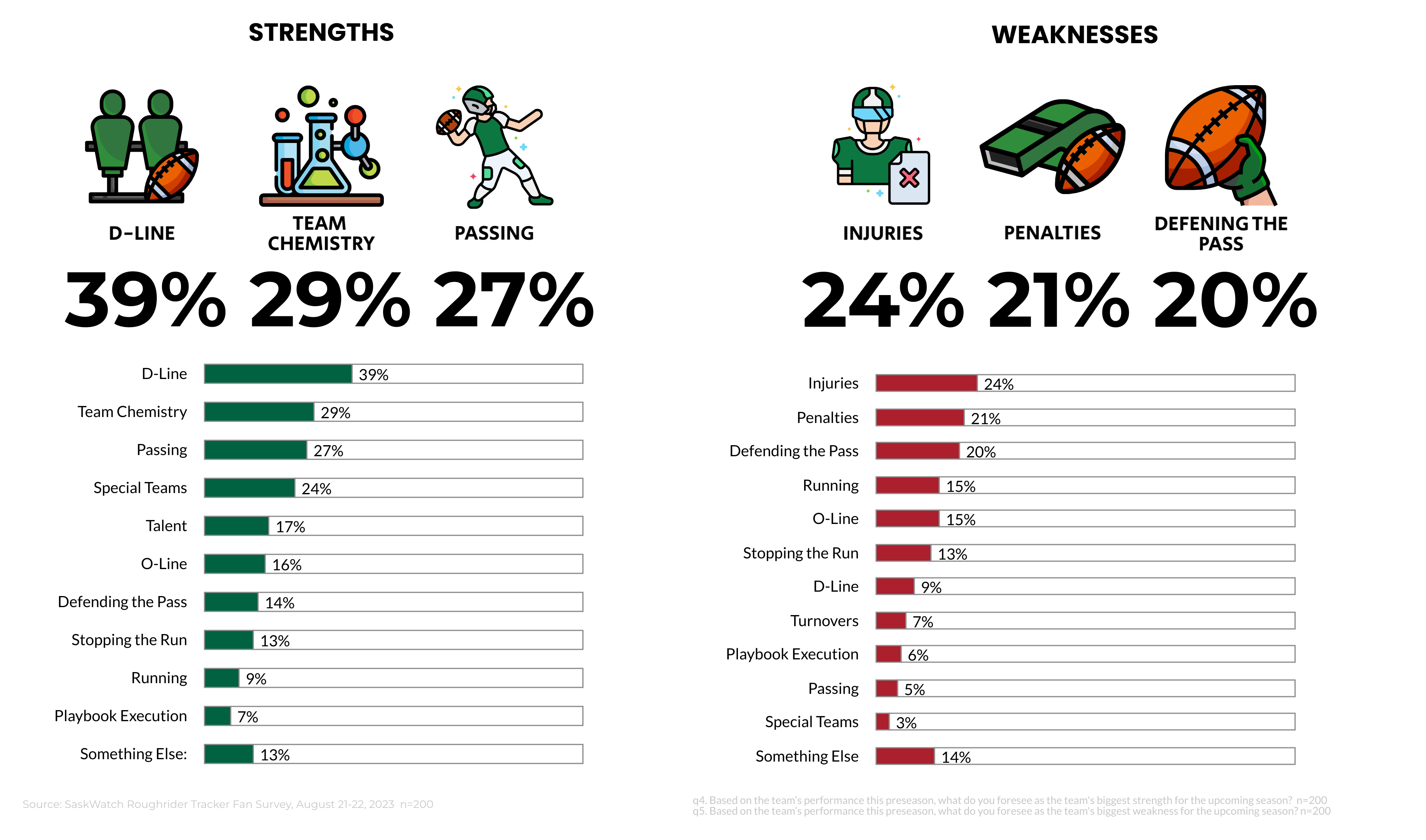 Top 3 Strengths:
Defensive Line (39%): The Riders' defensive line continues to exhibit their dominance, putting pressure on opposing offenses and disrupting plays.
Team Chemistry (29%): The bond and cohesion among the players remain a crucial strength, contributing to their ability to overcome challenges.
Offensive Passing Game (27%): Jake Dolegala's impressive performance highlights the potential of the passing game, providing the team with a dynamic offensive strategy.
Top 3 Weaknesses:
Injuries (24%): Injuries continue to be a concern, impacting the team's lineup and adaptability.
Penalties (21%): Disciplinary issues persist as penalties affect the team's momentum and field position.
Defending the Pass (20%): Despite the victory, the secondary faces challenges in containing opponents' passing attacks.
GREY CUP CONFIDENCE INDEX: A TIGHTENED GRIP ON HOPE
After the tense victory against the Lions, the Riders' Grey Cup Confidence Index (GCCI) has improved, reaching -69. The thrilling win has rejuvenated fans' belief in the team's potential and prospects, tightening their grip on the hope of a successful season.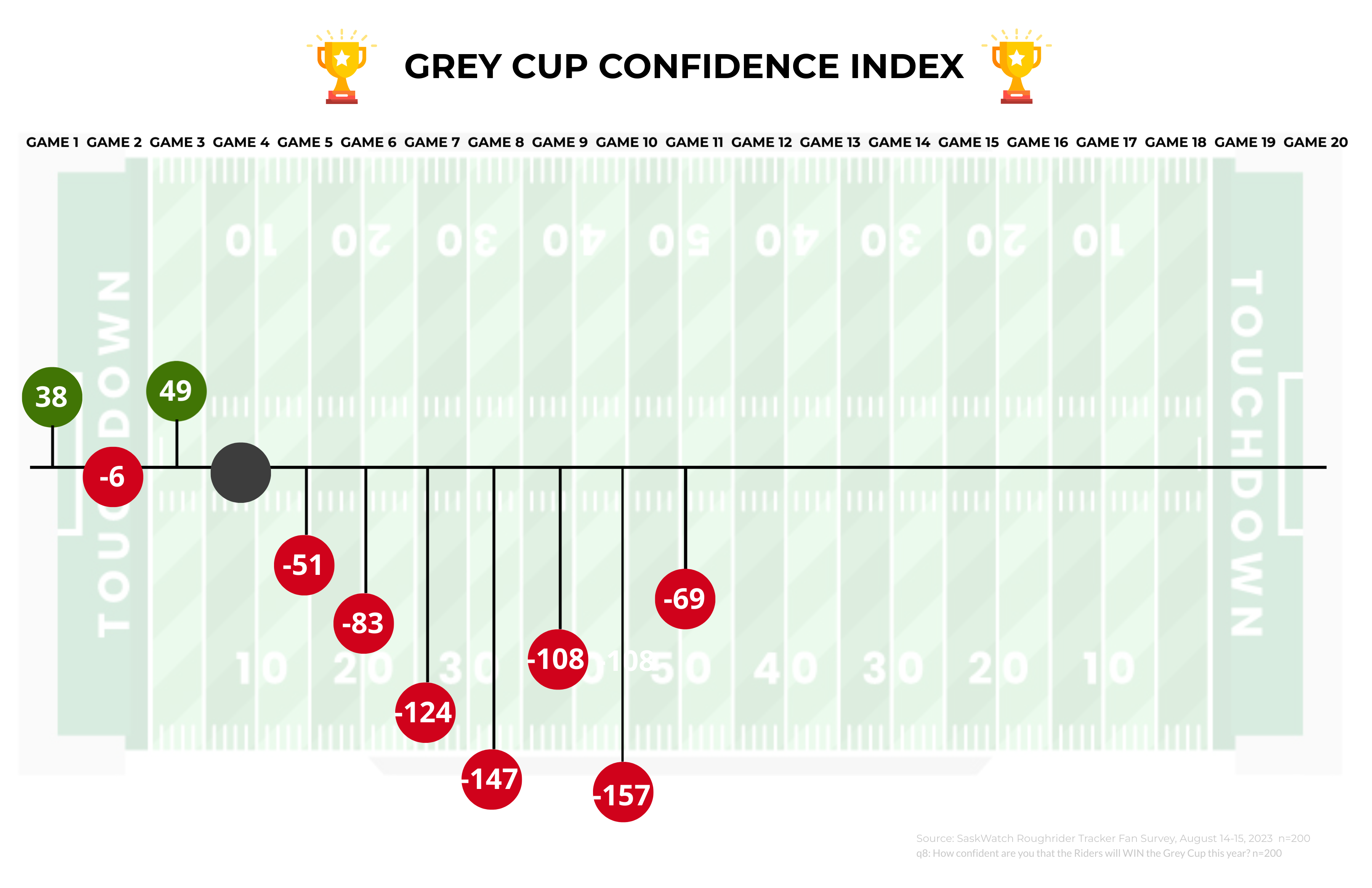 Join us to discuss the coaching choices, players' performances, and anything Rider-related at LetsGoRiders.com – one of Canada's only fan analytic sites. It's free, it's fun, and it's your way to join in on the community discussion.