Week 17 | CLOSING IN
After the Bye Week, the Saskatchewan Roughriders again faced off against one of their most formidable rivals in the CFL, the Winnipeg Blue Bombers. Unfortunately, the Roughriders didn't have enough in the tank to stave off an incredibly dominant Winnipeg team.
Let's see what fans say about the Roughrider's season in our Week 17 Lets Go Riders Tracker infographic.
FANS WEIGH IN
This week, we asked Roughrider fans what they thought of the team's performance during Week 17. While fans feel the stress of a rollercoaster season, a good portion of fans agree that the overall game was "disappointing," "poor," and "frustrating," being common words used to describe the Green and White's Week 17 performance.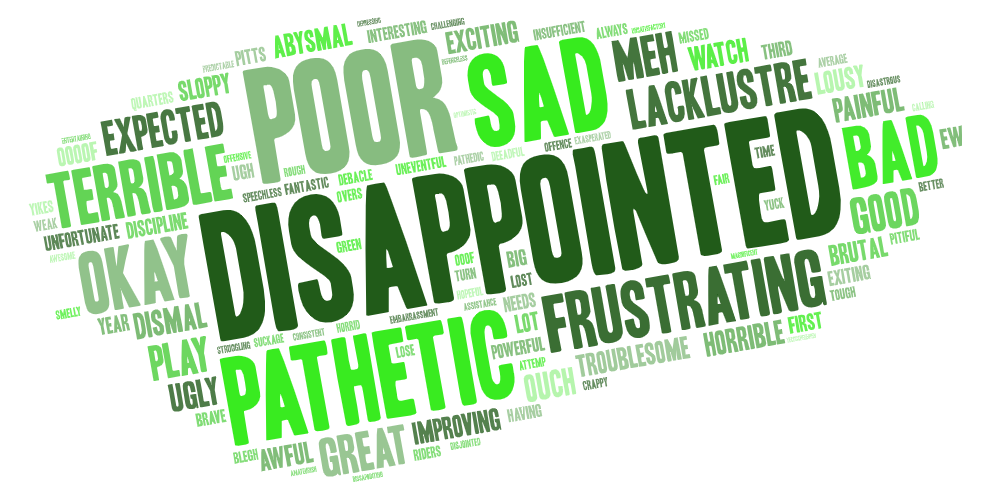 In terms of strengths so far this season, most surveyed said that the "special teams" (27%), the D-line (26%) and the offensive running game (17%) deserve all the praise!
Interestingly enough, Rider fans said that the offensive line (48%) and their offensive passing game (41%), and all those penalties throughout the game (53%) continue to plague the Roughriders. Since Week 1, fans have contributed penalties to being the Roughriders' number one weakness.