WEEK 19 | PLAYOFF PICTURE BLURRY
Greetings, Rider Nation! Week 19 brought another challenging match for our Saskatchewan Roughriders, this time against the Calgary Stampeders. Let's dissect the game's dynamics and evaluate the team's performance.
DEFENSIVE RESILIENCE BUT COSTLY TURNOVERS
The Riders' defense displayed commendable resilience, putting up a formidable fight against the Stampeders. The pressure exerted by Anthony Lanier II, Christian Albright, and Habakkuk Baldonado was palpable, resulting in a sack by Pete Robertson. Jake Dolegala showcased commendable effort, amassing 272 passing yards and guiding the offense effectively.
However, turnovers proved to be the team's Achilles' heel. Saskatchewan ended the game with four turnovers, a factor that ultimately contributed to the Roughriders' loss. Despite a promising performance, it's evident that securing possessions remains a crucial area for improvement.
OFFENSIVE CHALLENGES PERSIST
While Dolegala's efforts were commendable, the offense struggled to maintain momentum throughout the game. The unit faced difficulties in sustaining drives, which led to stalled plays and turnovers. This reiterates the pressing need for improvement in offensive execution.
STRENGTHS AND AREAS FOR IMPROVEMENT
Let's evaluate the updated statistics to gain insights into the strengths and areas demanding improvement for our beloved Riders in Week 19.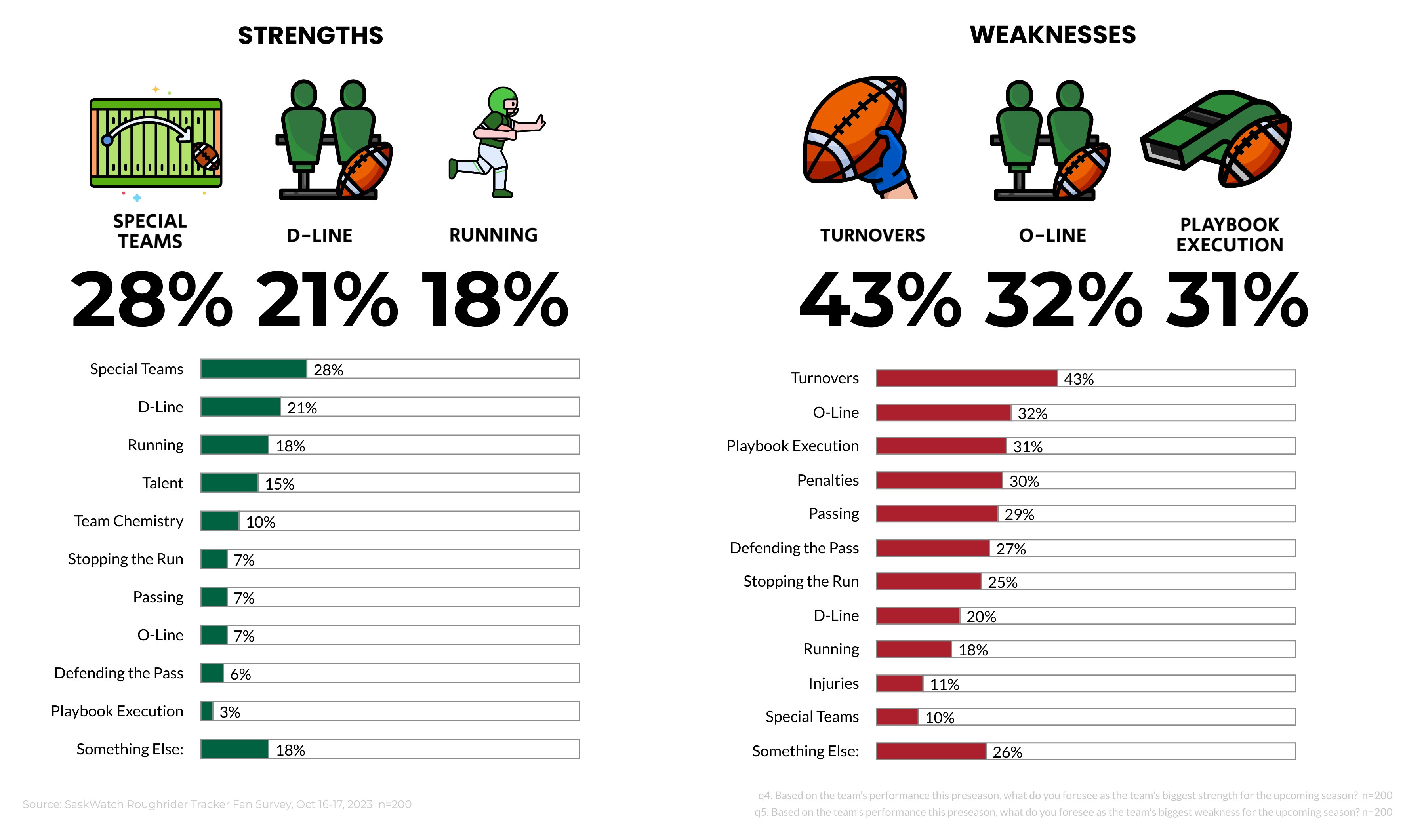 Top 3 Strengths:
Special Teams (28%): The Riders' special teams continue to demonstrate proficiency, maintaining consistency even in the face of adversity.
Defensive Line (21%): The defensive line exhibited resilience, applying pressure on the Stampeders' offense and registering a sack.
Offensive Running Game (18%): The running game showcased moments of effectiveness, led by Jamal Morrow's contributions.
Top 3 Areas of Improvement:
Turnovers (43%): Costly turnovers proved detrimental to the Riders' performance, emphasizing the need for better ball security.
Offensive Line (32%): Protecting the quarterback and providing better support for the running game remain key priorities.
Execution of Playbook (31%): The offense must work on executing plays efficiently and consistently to maintain drives.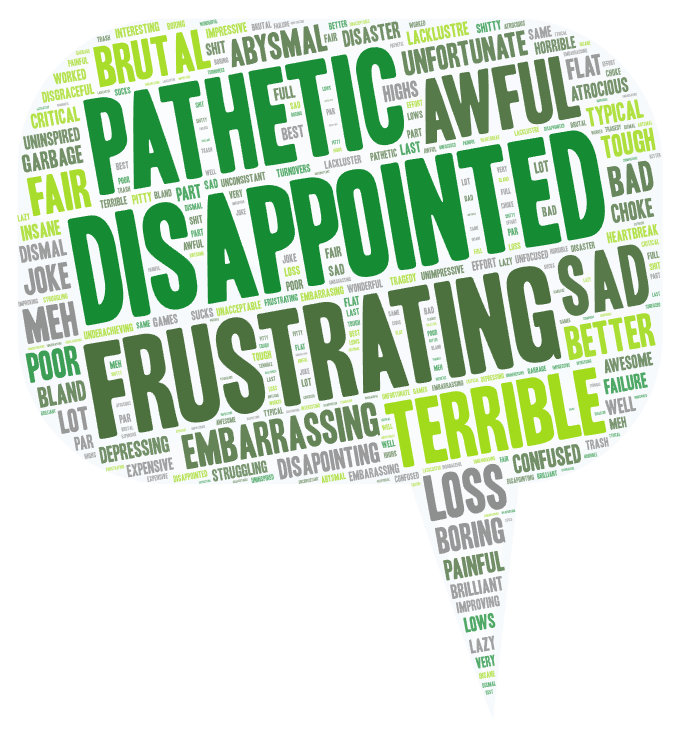 FAN SENTIMENT WORD CLOUD
Following the hard-fought battle against the Stampeders, fan sentiment reflects a mix of emotions. Terms like "Boring," "Struggling," and "Frustrating" now dominate the word cloud, mirroring the complex feelings among Rider Nation.
LOOKING AHEAD
With the Riders' record now at 6-11, securing a playoff spot becomes an even more challenging task. The upcoming clash with the defending Grey Cup champions, the Toronto Argonauts, is of paramount importance. Rider Nation's unwavering support remains crucial in this critical phase.
Hot Topic – What Are Your Impressions of the CFL Season Overall?
The 2023 CFL season has ignited a passionate conversation among fans, with sentiments ranging from exhilaration to disappointment. A prevailing theme is the call for strategic improvements, particularly in coaching and play calling. One fan expressed frustration, noting, "Coaching staff don't seem to be able to call plays that result in game winning strategy." This sentiment was echoed by others who observed a lack of consistency and a struggle to sustain effort.
There's a resounding call for leadership and better decision-making, with one fan highlighting, "Terrible! No passion, coaching is awful, poor decision making from the top down." The need for change is palpable, with fans emphasizing that a refreshed approach is essential for a more compelling CFL experience. As one fan aptly put it, "Time for coaching change."
Team Performance 
The season also saw a stark divide in team performance. While some highlighted the dominance of select teams, others expressed disappointment in the overall quality of play. "The caliber of the games have deteriorated," remarked one fan, reflecting a sentiment shared by those who yearned for more competitive matchups. The struggle for consistency on the field was evident, as injuries and a lack of depth posed challenges for several teams. These dynamics resulted in a season that left some feeling underwhelmed, with one fan succinctly summarizing, "It was not a good season. Riders sucked this year and not interesting to watch."
On Field Action
In addition to the on-field action, fans weighed in on the league's broader direction. A recurring concern centered on the need for greater affordability and accessibility. "I think the league needs to get more young people out to the games and make it more affordable," remarked one fan, underscoring the importance of cultivating a vibrant and inclusive fan base. There was also a call for stability and continuity, with fans expressing a desire to see players remain with their respective teams for longer durations. This sentiment aligns with a longing for more enduring storylines, particularly in light of team dominance and the current state of parity within the league.
In conclusion, the 2023 CFL season has sparked a wide array of emotions and opinions among fans. While some relished the excitement of close finishes and standout performances, others voiced concerns about the league's direction and the need for substantial improvements, particularly in coaching and player retention. As the season draws to a close, the resounding message from fans is a call for change and renewed vigor, in order to elevate the CFL experience for all enthusiasts.
WANT TO WEIGH INTO THE CONVERSATION?
Remember, your insights and opinions play a vital role in shaping the narrative of Rider Nation. Join the conversation by signing up at SaskWatch.ca and have your say on the team's progress.
The SaskWatch Research® online community is powered by Insightrix Research Inc., a Saskatchewan-based research company. This Saskatchewan-only community allows Prairie residents to voice their opinions on various issues facing the province and local communities, including sports and entertainment brands like the Saskatchewan Roughriders. By joining SaskWatch, you can participate in market research studies that interest you.
Here's to hoping for a turnaround in the next game! Stay tuned for more updates.