WEEK 13 | RIDERS' OVERTIME THRILLER LIGHTS UP LABOUR DAY CLASSIC
Greetings Rider Nation! It's time for an exhilarating update on the Saskatchewan Roughriders' Week 13 performance. The Labour Day Classic saw the Riders face off against the Winnipeg Blue Bombers in an overtime showdown that had fans on the edge of their seats.
FORD'S HEROICS SECURE VICTORY
With deep roots in Regina and a familial connection to the Riders, Rookie Jaxon Ford emerged as the game's hero. In a heart-stopping overtime clash, Ford's crucial deflection of a pass by Winnipeg's Collaros secured a 32-30 victory for the Green and White. The sellout crowd of 33,350 at Mosaic Stadium witnessed an instant classic.
Backup quarterback Jake Dolegala showcased his mettle with an impressive performance, throwing for 326 yards, including a crucial 34 yards in overtime. His connection with Shawn Bane Jr. for the two-point overtime conversion was a pivotal moment that put the Riders ahead.
Despite some challenges, the Riders' defence demonstrated resilience. Nic Marshall's interception and key plays by defensive players like Derrick Moncrief and Pete Robertson contributed to the team's tenacity.
FAN INSIGHTS: STRIVING FOR CONSISTENCY
The resounding call from fans to minimize penalties (55%) emphasizes the importance of discipline and composure, especially in high-pressure situations. Additionally, the desire for a more balanced offensive approach to include more running (11%) reflects the need to continue evolving the game plan.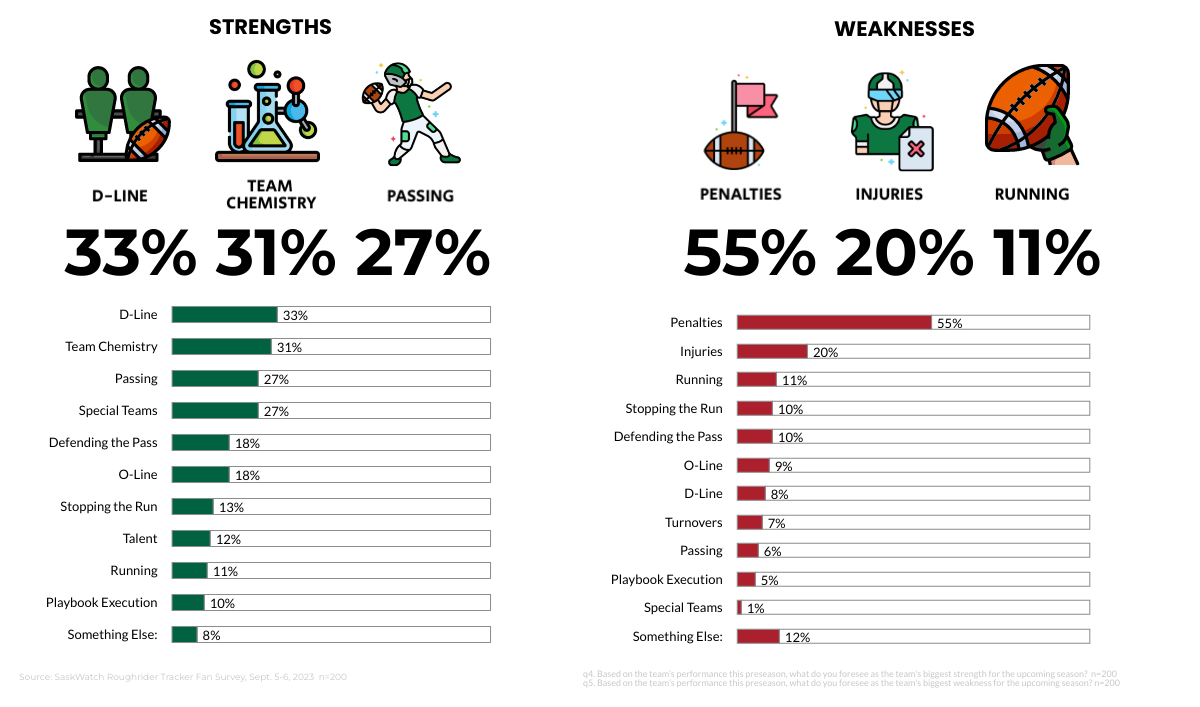 Top 3 Strengths:
Defensive Line (33%): The Riders' defensive line continued to apply pressure, disrupting Winnipeg's offence and making crucial plays.
Team Chemistry (31%): The unity and support among the players remain a vital asset, especially in high-stakes games.
Offensive Passing Game (27%): Dolegala's leadership and precision passing were instrumental in securing the victory.
Top 3 Areas of Improvement:
Penalties (55%): Discipline remains a concern, highlighted by unnecessary roughness penalties that impacted critical moments in the game.
Injuries (20%): The team continues to grapple with injuries, affecting lineup stability and adaptability.
Offensive Running Game (11%): While the passing game showed promise, there's room for growth in the running game to provide a more balanced attack.
GREY CUP CONFIDENCE INDEX: RISING FROM THE ASHES
The Riders' Grey Cup Confidence Index (GCCI) has significantly risen to -17 in a stunning turn of events. The electrifying victory over the Blue Bombers has reignited hope and belief among Rider Nation as they look ahead with renewed confidence.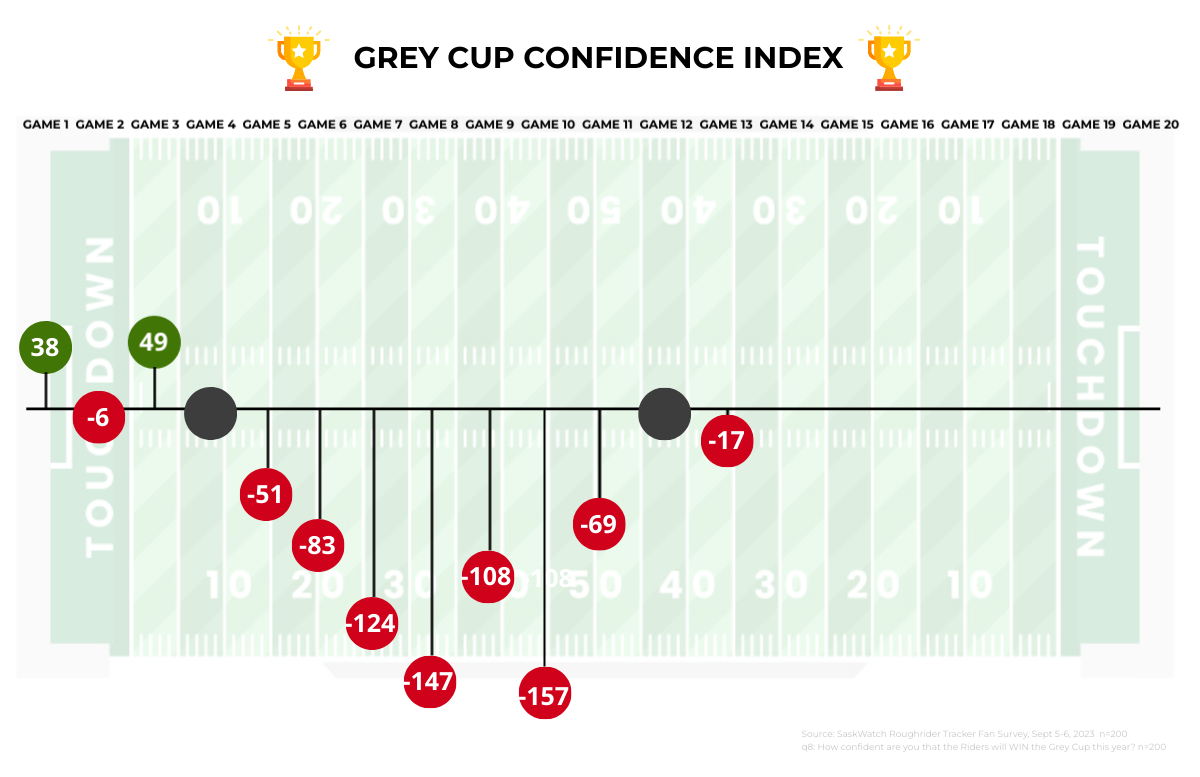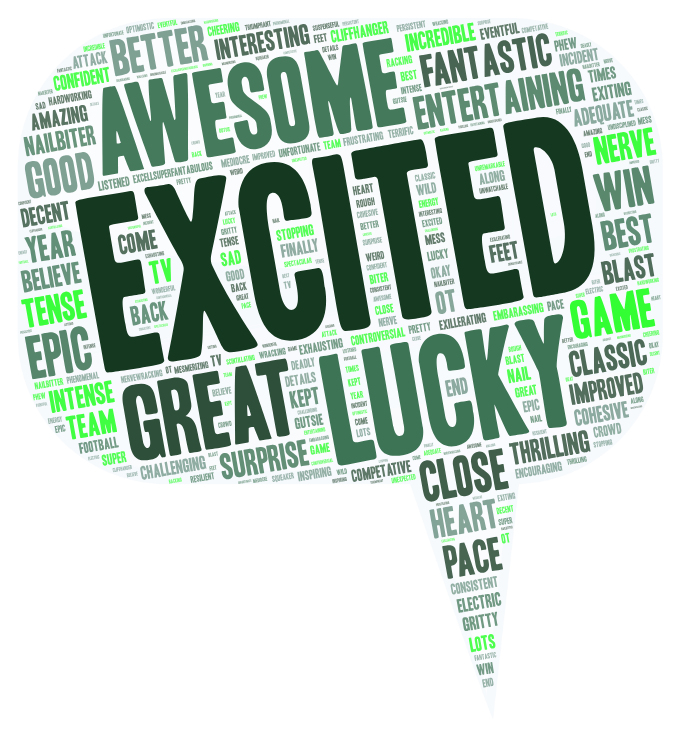 ANALYZING THE FAN SENTIMENT
This week, the word cloud generated from fan sentiments reflects the rollercoaster of emotions during the Labour Day Classic. Phrases like "Exciting," "Thrilling," "Nailbiter," and "Fantastic" dominate, capturing the intense energy of the game. Fans were engaged and invested in every moment.
Want Your Say?
The Riders' journey continues, and each game brings new challenges and triumphs. Join the conversation at LetsGoRiders.com to share your thoughts on the team's progress. Your insights are an invaluable part of the Rider Nation community.